Theresa May Set for Basingstoke Live Appearance!
In a riposte to Jeremy Corbyn's rousing appearance at Glastonbury, it has been announced that Theresa May will be appearing at 'Basingstoke Live' with local MP and dubious mortgage person, Maria Miller.
May and Miller will be introducing Hackney based MC Paigey Cakey, and will address literally tens of festival goers with subjects such as how to defraud mortgage companies, working with offshore tax havens, sending bungs to extremist political organisations, selling the NHS and running through fields of wheat.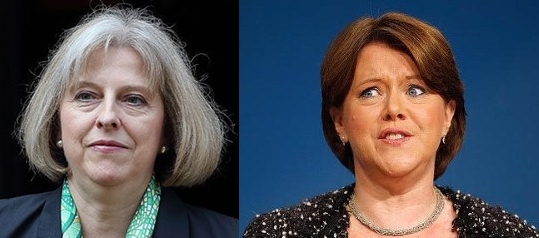 Jive at Basingstoke Live: The Miller & May Duet
As the famous old War Memorial rocks to sound of the mesmerised audience singing "Whoa, Theresa, Maria, Whoa, Theresa, Maria", May and Miller are expected to finish the set with their own version of a selected hit from the 1980's.
Rumours were abound that they were set to perform 'Diamond Lights'  by Waddle & Hoddle, with Grant Shapps on keyboards and Michael Gove on base. However, sources close to the cabinet have confirmed that Maria and Theresa have been busy rehearsing the 1988 hit 'We Rule'  by The Wee Papa Girl Rappers.

We Rule: May an Miller will be performing the 1988 hit at Basingstoke Live.
Labour party HQ were said to be furious with the announcement with veteran MP, Dennis Skinner typically forthright, saying, "That's typical Tory policy…going on stage in a town that would vote for Maria Miller if she shat in their lunchbox."
May and Miller are on stage at 9:15 PM on Saturday 8th July with the set expected to last 15 minutes plus additional minutes for an encore.
Both the AA and the RAC have advised revellers wishing to see the duet to add at least 30 seconds to their journey and to carry a flask, a tartan blanket and a copy of The Daily Mail.