I was strolling along The River Test near Houghton today and when I was walking across the bridge on the third stretch, I saw an elderly man approaching me in the obligatory River Test uniform which features a mustard shirt, pink slacks and well worn but expensive looking moccasins.
"Good morning",  I said,  in a hearty accent that was far posher than my normal one (I must stop doing that and just accept I am a serf).
"Good morning…you wouldn't believe it was man made would you", came the haughty reply as he wandered past me.
Wait…what did he say? Was he insinuating this famous old chalk stream was man made?
"I'm sorry, did you say man made?" I asked, still trying to sound well to do, but in a more incredulous manner his time.
"Yes, that's right, although the source of the Test is natural, this area was constructed by the Americans during World War II."
If this was one of my friends, I would have said "Oh do fuck off" but as he was posh, I opted for "Oh, do go on?"
He went on to tell me that this part of the river was dammed and pushed into three separate rivers so American doctors could transport injured veterans back to Stockbridge from Southampton docks to be treated.
The reason there were three main parts to the Test south of Stockbridge was to confuse any German air raids on the whereabouts of the boats full of the injured Americans being transported back from the D Day landings.
The plan was simple; each transportation would take a different section of the river to Stockbridge so the Germans would never really know where to strike.
He went on to tell me that back in Stockbridge an entrepreneurial nurse had set up two hospitals in the village and, would you believe, a brothel, just opposite The Three Cups pub.
Now, I don't know how many of you have been to Stockbridge, but it is the last place you would expect to find a brothel. I guess this cunning transportation of injured soldiers was an ideal business opportunity?
This chap could chat a bit and as he got on to the subject of coal mining in the city of Bath, I thanked him for this enlightening story about the River Test and went on my way.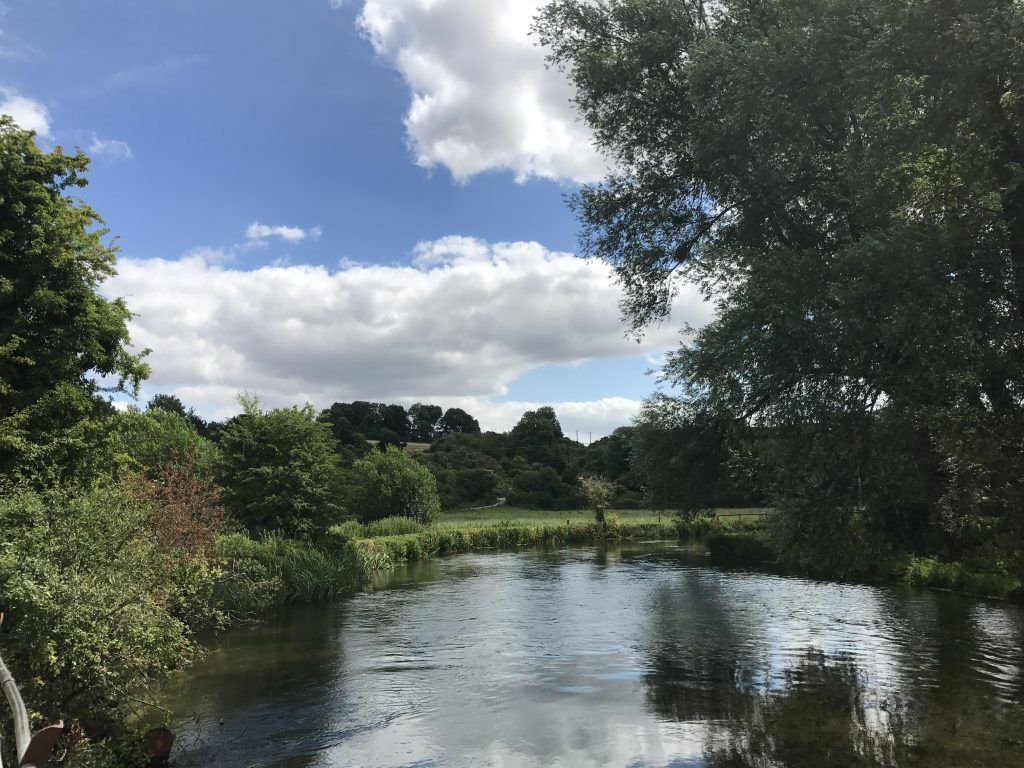 Brothel Return Journey? One of the three sections of The Test at Houghton
About half a mile further along, I came across some Hampshire County Council hedge cutting workers who were sat having their lunch. As I got chatting, I couldn't help but relay this fascinating tale of The Test as if it was my own; they were as equally impressed as I was, if not a bit surprised.
So, when I got back, I excitedly got on to my computer to read about the stories of the Stockbridge American soldiers and more importantly, how a lady managed to open a brothel in this prosperous and conservative heartland.
You won't believe what I found.
Nothing.
This old bastard had totally done me over and worse still, I had regaled his preposterous tale to a bunch of unwitting council workers who, one assumes, have almost certainly written me off as the village idiot.
Whether he told this story to have a bit of fun or actually believed it to be true, I just don't know. However, with his posh accent and expensive countryman attire, I have to hold my hands up and say he mugged me off good and proper.
The next time I see him I am going to tell him I am the Grandson of Jack Hargreaves and that despite his friendly looking disposition, Jack was so mad for prostitutes and nose candy, he often failed to turn up to the 'Out of Town' studios.
I need to get my own back, I am sure you will agree it's only fair.