Critics of the Hampshire Countryside!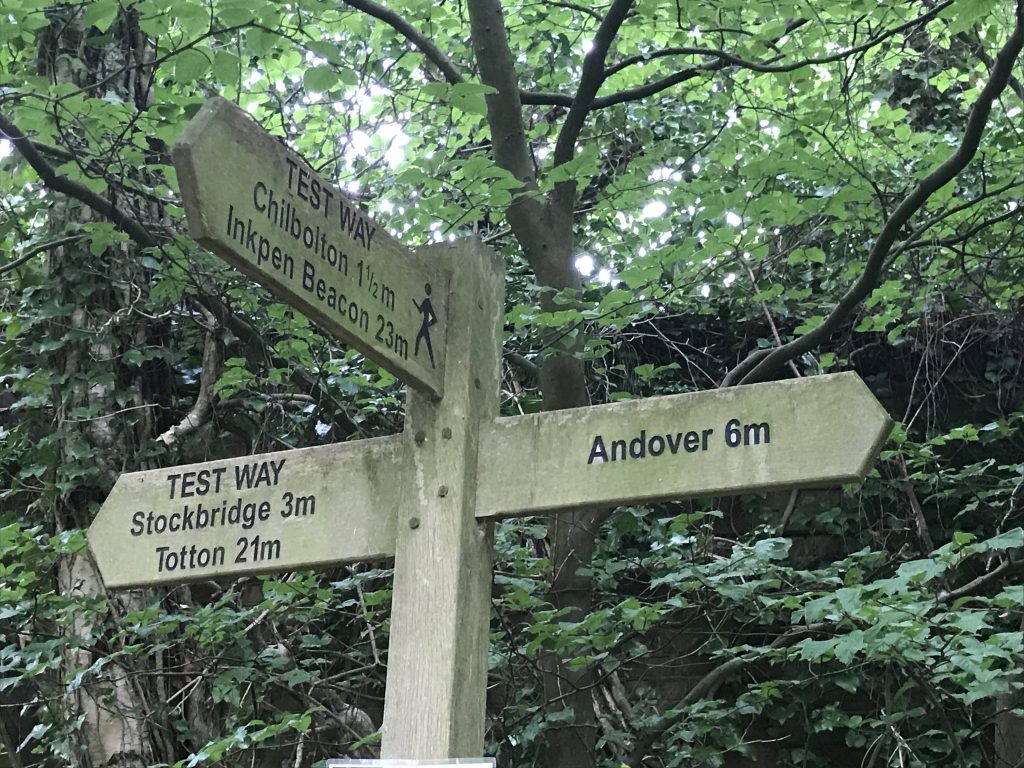 I bumped into a chap out on his push bike when I was walking the dog today. He was one of those cyclists who looked like he meant business, slender in build and equipped with lightweight rucksacks and waterproofed ordnance survey maps that you have to remortgage your house to purchase.
Anyway, he had ridden from Shawford near Winchester and was heading out towards Micheldever when I bumped into him, rather conveniently, outside the Abbot's Mitre pub in Chilbolton. He was stopping for a pint and thinking it would be selfish to decline his offer to do the same, I joined him.
This could be regarded as a dangerous manoeuvre as there was the possibility I was about to embark on a half hour lunch break with the world's most boring man. However, I like beer and I like maps, which I guess makes me at least as equally tragic as this bloke might turn out to be.
Anyway, he was a nice chap, originating from Warrington, Lancashire, ending up in Winchester a few years back after a career that took him to Russia, New Zealand and Turkey (I didn't ask what he did for a living). Now retired, he had taken to riding around the various local paths like the Test Way, The Clarendon Way and the Wayfarers Walk. It is a hobby that seemed quite appealing to me.
Then, out of nowhere, he launched into what I could only describe as a polite attack on this area of Hampshire and the inability to enjoy much of it because it is surrounded by panel fencing and barbed wire. In his opinion, the Itchen Valley, to the East of the County of Hampshire, was much more appealing as a walker or cyclist.
This was the third type of assault on my locality in recent weeks, the other coming from a lady, originally from Surrey, who I met on Chilbolton Common, and a retired couple from Dorset who I bumped into on The Test way at Houghton. The one thing they were all bemoaning was the fact that much of the beauty of Hampshire was fenced off and as a consequence, they were in the process of moving back to their home counties.
So anyway, after excitedly taking notes of a walk from Shawford to Winchester that included a pub called The Bridge, I went one way with my dog and he went the other on his bicycle. It was a really interesting half an hour, so it seemed strange that we would never meet again unless our dog walking and cycling paths crossed once more, presumably not around here though.
I felt a bit defensive towards Hampshire as I am, of course, a local boy, if not originally local to the Test Valley. As I walked back through the common I did wonder why people were so critical of this area but then, as I walked through the football pitch along to the Test Way what you see in the video below, is just a snippet of my walk back to West Down where my car was parked.
I only videoed this for a minute as it is boring but it goes on for perhaps a quarter of a mile then you are directed back to the road to Fullerton, out of harms way. I could walk through a run down sink estate and experience the same level of interest, the only difference being that rather than a chained up pit bull terrier, behind that fence is The Test in all its beauty for no one to see except the bloke who owns it.
An unfortunate cocktail of people not respecting the countryside and greedy bastards who want it all to themselves has made much of The Test Valley's most spectacular scenery inaccessible to walkers or cyclists. A perfect storm of cretins from opposite ends of the human spectrum has made the Test Valley a bit shit, when it should be wonderful.
My business partner is in Norway at the moment, visiting family. Where he is, nothing is owned privately and you are free to walk, cycle, sail or fish wherever you want.
Wouldn't it be great if Hampshire was like that?