Wimbledon Exposes a Nation of Contradictory Sycophants!
I really enjoy tennis at its highest level, it is a game of endurance and supreme fitness like no other. In fact, the 2008 Wimbledon Final, when Rafa Nadal beat Roger Federer in five sets, remains one of my top ten sporting occasions.
However, Wimbledon 2017, has excelled more than any other before it for its irrational criticism, sycophantic behaviour and outright hypocrisy.
As early as the first round, we had experts and players bemoaning the fact that unseeded players had turned up to matches unfit and had duly either been walloped, or had their noses ground into the Wimbledon turf so hard, they simply just packed in halfway through their matches.
Firstly, if you don't want unfit players turning out in the first round, don't pay them £35k to lose. Come on, let's be honest here, most of us would crawl 10 miles over broken glass to frolic naked with Anne Widdicombe for £35k, so having a tight hamstring is not going to deter a struggling tennis player who will use some of the proceeds to purchase a pot to piss in.
Secondly, it is obvious that Andy Murray and Novak Djokovic had bad injuries going into the tournament and Rafa Nadal has kneecaps like digestive biscuits, so should have they pulled out of the tournament beforehand?
In Murray's case, it is possible say yes, he would have been better off to pull out, as his hip injury, in the eyes of many morons, is an excuse to cover up the fact that despite being the two times Wimbledon champion, he is actually useless.
Here is a something I read yesterday on social media.
"I'm awaiting the excuses from Andy Murray !! Just admit it Andy you're shit!!"
Playing with one operational leg is not a good enough excuse for Murray, who was on course to crush journeyman, Sam Querrey, before his hip began to wobble and then caved in at the end of the third set. Ask anyone who knows about sport, whether it be golf, cricket or boxing, if you have not got a solid base, you are done for, no matter how good you are.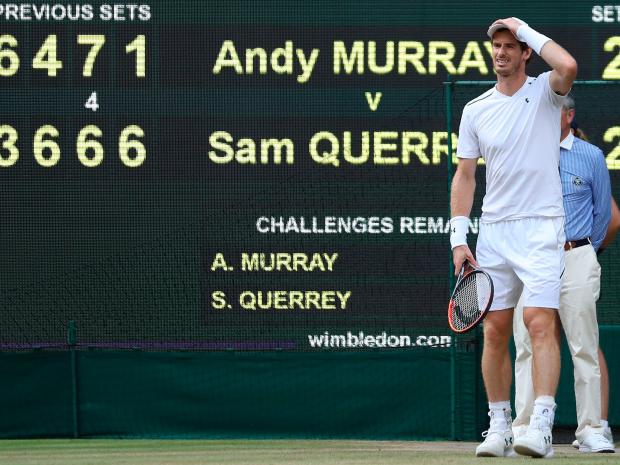 Such is the witless nature of the English public, Murray will never shake off an "anyone but England" joke in the 2006 football World Cup, or indeed his inability to lose in Round Two in between fucking about on Question of Sport or in the car of James Corden, or James 'fucking' Corden as he is known in my house.
Not so long ago, there was public demand for someone with humble roots to be good at sport and when they got one straight from state school, not Eton or Oxbridge, they bemoan the fact that he is not as funny as Michael McIntyre. To compete with Djokovic, Federer and Nadal, Murray has to wake up with a tennis racquet in his hand, hit balls for 12 hours, then go back to bed exhausted; he doesn't have time to dick around on The One Show, the days of Ilie Nastase winning and going out on the champagne are long gone.
*So, with the useless defending champion out, our attention turns to local girl, Australian/Hungarian, Joahnna Konta. Now, I have no problem if Konta (she moved to the UK aged 14) wants represent the UK at tennis, however, it seems rather ironic that she is being championed by a newspaper (The Mail) with an historical hatred for Eastern European immigrants. The last time I checked, Hungary was in Eastern Europe.
In the warped world of The Daily Mail, If you travelled under a truck or floated across the Mediterranean to escape the people who killed your parents, you need deporting. If you are good at tennis you are more English than a plate of fish and chips.
Then there are the commentators, namely, Mr J P McEnroe, the darling of the BBC and Centre Court, who is welcomed back every year as a nostalgic reminder of when he wooed Wimbledon, with middle England falling in love with this gentleman from New York.
Of course, for those of you who remember correctly, Wimbledon and its tennis supporters actually hated McEnroe and wanted him banned. Personally, I loved him; his snarling face and bottom lip quivering in anticipation of a cry of 'FAULT' as the base line went up in puff off chalk, was something to behold. It was like watching a Wimbledon anti-christ, with BBC visibly shaking at the prospect of an episode that would result in phone lines jammed with suburban lunatics demanding his execution.
Now they love him and long for the day when tennis players were characters like him.
McEnroe: Watching him was always a pleasure, never a chore
Anyway, despite all these funny goings on, one of the funniest pre-Wimbledon things I heard, was the irrational fear in the establishment that supporters of Jeremy Corbyn might chant 'Whoa Jeremy Corbyn' along to the tune of The White Stripes song 'Seven Nation Army'.
Wimbledon hastily announced that political slogans and chanting would be halted and that perpetrators could face being evicted. Now, one thing I would expect from the Wimbledon organisers, is that they would be well acquainted with their audience. These are people who post Facebook updates on the lines of, "Worst nightmare, ran out of Dowe Egberts coffee" or "Busy, busy day, Gym then Latte with the girls".
They would be more likely to sing 'Off with her head, off with her head' at the Queen, so Wimbledon really didn't need to say anything at all but in a way I am glad they did. When admiration for a politician turns to adulation we are heading into silly territory I am not comfortable with. Let's leave that sort of stuff to North Korea.
As for the tennis itself, those who hate Andy Murray will soon get their way as by my reckoning, his injury looks career curtailing, if not career threatening. This will mean a slip down the rankings before retirement comes, either enforced, or in the realisation he can no longer compete.
This will allow him to move aside for Horatio Ponsonby -Smythe, the new British Number One (world number 457) to dress up as Peppa Pig on Children in Need and become the darling of the Centre Court for one day every year for the following decade.
The public gets what the public wants, and that's generally a load of old dross.
*In fairness, it is not just tennis that suffers from dubious allegiance. English cricket has a long history of tenuous links and the England Rugby Union teams are just bizarre. There will come a time when if your grandad worked on the design of one of the sprockets on Apollo 11, you will be able to represent the Moon.