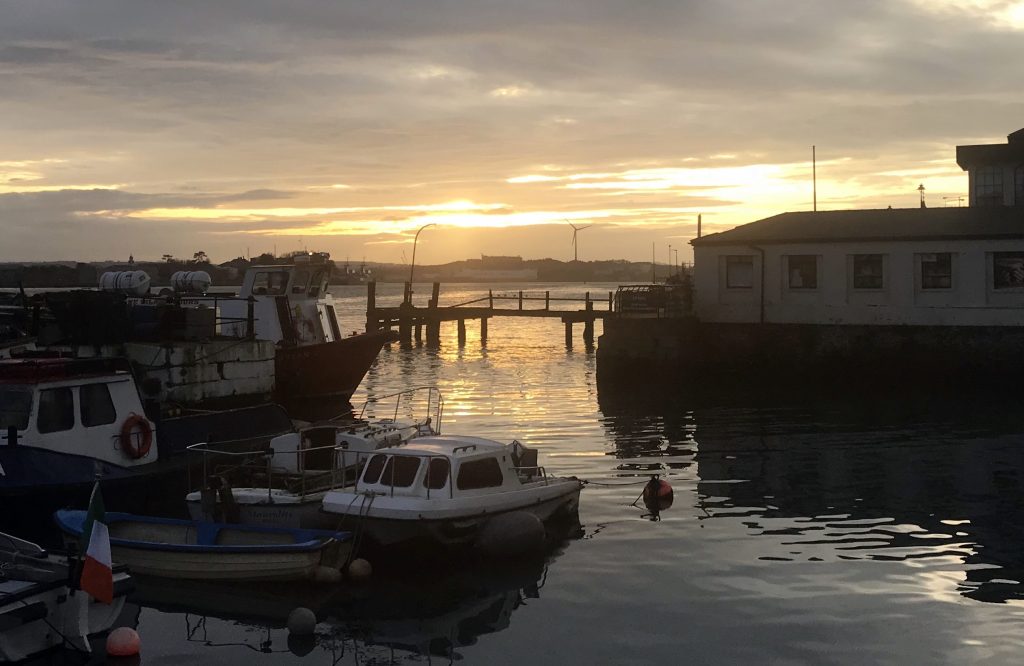 The first thing you notice when travelling to Cork is that if you ask anyone for directions you could be there for some time, as they do love to talk.
The first time we did this we asked a chap if there were any traditional pubs he would recommend. He asked if we had been to Ireland before and whether we were expecting to see people River Dancing down the street before offering us a plethora of choices.
We ended up in a bar called Canty's where a chap called Jim proceeded to draw a  detailed map of Cork's must see pubs whilst offering a graphic description of each one. Such was Jim's attention for detail I did wonder if we would ever get out, which we did, eventually.
We ended up in Pat Buckley's bar on the walk down to town from our hotel (the superbly situated Maldron Hotel). Pat Buckley's is basically a cosy living room with pictures of Irish Republican rebels and various local sportsmen, musicians and comedians from the area; it is a great little place which is traditional without trying to be, if you get what I mean.
We ate in Scoozi's Italian restaurant where, typically, the staff were really friendly and helpful and end the rest of the evening watching music in The Oliver Plunkett, which is a bit of a tourist trap but it did feature a couple of good bands.
On Friday (my 50th Birthday) we took our hire car, a Skoda Citigo 1.0 Litre dream machine, from the hotel to Kinsale, which at its head, is famous for the sinking of the ship The Lusitania, which was torpedoed by the German navy in 1915, killing 1198 civilians. This was not the cleverest of ideas as it turned many countries (America included) against Germany, serving as an excellent recruiting tool as it did so.
Kinsale itself is a beautiful village of bright colour, tea rooms, independent shops, restaurants and of course lots of pubs. In November it was quiet but apparently it is packed in the summer months with tourists from cruise ships boosting the economy. We had tea and I bought a tweed hat which made me realise that yes, I was now 50.
From there we went to Blarney to kiss the famous Blarney Stone. However, we didn't get to kiss it in the end as they wanted 30 Euros for the pleasure, which seemed steep for a brief affair with a promiscuous stone. Instead, we had a drink in the local pub, The Muskerry Arms, which was and excellent place serving a fine pint of Beamish.
Now let this be a lesson to anyone visiting Cork. My birthday evening was a little bit tainted by the fact we got into town when every good restaurant was full. This was my fault as I insisted on a pint at Pat Buckley's (our new local) and then got tempted into another bar after hearing a chap singing 'Fisherman's Blues' by The Waterboys.
It was gone nine when we got out of there and we were pretty much screwed for a table so we had to settle for a Pizza Express which is fine but hardly the stuff of a 50th birthday celebration. We cancelled our celebrations until the next night and decided there was little we could do about this error of timekeeping.
On Saturday after a trip and a hearty breakfast the wonderful food market (The English Market) it was of out in the Skoda again, this time to the seaside village of Cobh (pronounced Cove). What a treat that turned out to be as the weather held fair, meaning that rather unusually, they were doing trips out to Spike Island an eerie place that in its time has served as both prison and Fort.
If you go to Cobh, you must visit Spike Island as it has a fascinating, often dark and cruel history. The guides who take you round are witty without trying and having graphic knowledge of all the uses Spike Island has had over the years. They were far more witty than the couple who thought they were the 'characters' of the guided tour, asking inane questions and talking loudly to each other hoping people would join in with their banter whilst videoing with selfie sticks. Cretins.
After the trip we stopped for a beer at Kelly's Bar on the front. Kelly's is a warm and friendly place and there was mixed support going on in the bar as England were taking on Australia at Rugby. Our visit was only slightly marred by a Liverpudlian who started off quite interesting but descended into talking about Hillsborough and never buying The Sun newspaper etc etc.
I like Liverpudlian folk and I fully support their injustice but it was my little holiday for my birthday so I kind of wished he would fuck off and leave me alone.
As darkness fell, we headed back to Cork and to the Orso restaurant and bar in Pembroke Street. This was my belated birthday meal from Jennifer and it was exquisite; washed down with excellent wine, it was a real treat. We left there, listened to a bit of not very good music in The Oliver Plunkett, some excellent music in a pub I can't remember the name of, followed by a walk up to the famous pub called Sin E which was busy with a traditional band playing.
I like that sound in a good pub but sometimes I do wonder that rather than having a collection of Irish Folk music, you could just buy one CD and put it on repeat shuffle.
So that was it, our trip was over in no time leaving me with a sense of fulfilment that we achieved a lot in little time.
Some people say that they feel like they have found their spiritual home when they visit Ireland and whilst I can't claim to have that feeling, I can see why some people get like that, it is a warm and friendly place.
In my opinion, the Irish are content with their cultural identity within a union. Cork reminded me of Sorrento in a way as it has found a way of keeping what makes its culture attractive and traditional whilst being part of a bigger picture.
Somehow, England has managed to lose that and fuck it all up, leaving it, at present at least, struggling for confidence and appearing rudderless as it heads into an uncertain and divided future outside of the European Union.
I do worry that this will all lead to us being a corporate arm of America rather than a European state with its own cultural identity.
How sad is that?
A video of of our trip is below.