Cyrile Regis
Posted on January 16, 2018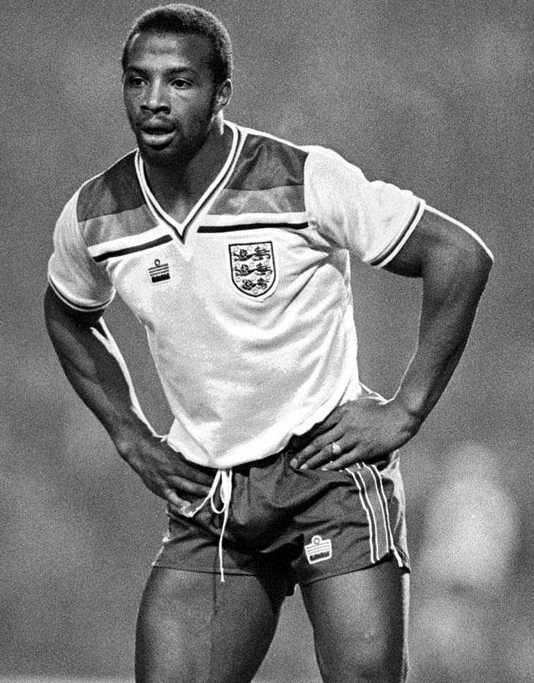 I was going to do a little piece on Cyril Regis last night but I decided not to as former players like Dion Dublin and Brian Deane did it much better and unlike me, knew him well.
For people of my age group Cyril Regis was something of a phenomenon because back in the 1970's white footballers still had legs like they were about to snap and pasty looking faces courtesy ciggies, booze and wild women.
In contrast, Regis was built like an adonis and along with Brendan Batson and Laurie Cunningham he made West Bromwich Albion, off all clubs, seem glamorous to us white kids playing football on the Pineapple playing fields out on the borders of Hampshire and Berkshire. It was only 120 miles or so but The Midlands seemed a thousand miles away.
It seems ridiculous now but the only time I had really seen black guys was when watching England getting trounced by the West Indies at cricket and I never really associated Afro Caribbeans with football in England.
The game that always sticks in my mind was against Manchester United a couple of days before a big snowstorm was forecast in December 1978. I supported Manchester United at the time and I was doubly excited as I loved snow and this was being billed as the game of the season.
It didn't disappoint and West Brom ran out 5-3 winners with Regis and Cunningham tearing United apart, despite all the crap they had to endure from the Old Trafford terraces. It must have been great ramming the chants down the supporters throats as they recovered from going behind twice to win a thriller.
Thriller: Cunningham and Regis destroy Man Utd in a game that lives long in the memory.
I sat next to Cyril Regis at the Madejski Stadium a few years back (he was the Uncle and agent of former Reading striker, Jason Roberts) and I was amazed about how dapper he looked in a flat cap and stylish winter jacket. After about 20 minutes of pretending to be cool, I eventually asked him if he remembered that game versus United and he said "Yeah but only like it was yesterday".
I guess the biggest tribute to Cyril Regis and the other WBA players of that time is that as opposed to 1978, black footballers (apart from by the odd UKIP weirdo) are treated like just another player by supporters and fellow professionals alike.
Remember, Regis had to endure racism at it worst, including being sent a bullet in an attempt to stop him representing England. In a later interview Regis said the following.
'I've still got it to this day (the bullet). The letter soon got binned, but I kept the bullet as a reminder of the force of anger and evil some people had inside them back then. For the rest of my playing days, it was also a motivation, a reminder that these people were not going to stop me. I'd already had years of monkey noises and chants of "niggerr, nigger, lick my boots" – a truly odious taunt loaded with overtones of colonialist supremacy, slavery and subservience – so I wasn't particularly shocked and certainly wasn't scared".
A couple of years ago there was a documentary called Black v White presented by Adrian Charles. If you didn't see it, have a watch, as it demonstrates what it was like for black footballers in the 1970's. It is being shown again tomorrow. Click here. 
Football is much better because of the likes of Cyril Regis, a man mountain with shot like a canon, who stood up to the vilest in our society and beat them.
No wonder the like of Dion Dublin and Brian Deane were so physically shaken when interviewed yesterday.
---
1 Reply to "Cyrile Regis"
Cyrilllllllle Mcspangle

January 16, 2018 (6:17 pm)

Is it Cyril Cyrile or Cyrille?
---