Well, That Went Well Theresa!
Posted on September 21, 2018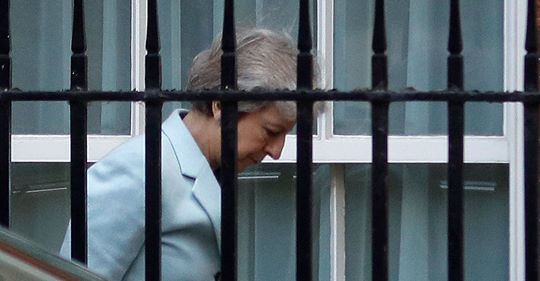 Well that trip to Salzburg went well didn't it?
Poor old Theresa got humiliated, got incandescent about being humiliated and as a result carried all the confidence of someone who has seen a ghost, defecated in their pants, and realised they were wearing white trousers.
Or as one journalist from The Independent hilariously described her press conference:
 "It was, at moments, Keeganesque. By the end, she may even have told the assembled crowd that Donald Tusk is going to have to go to Middlesbrough and get something".
I liken going to the EU with the Chequers Paper to telling one of my clients that I am not interested in them anymore, before returning a couple of years later and telling them that I could do them a special favour and do some business with them. But only the good bits mind.
My clients are a bit brusquer than Donald Tusk. They would reply in one of three ways.
1/Get fucked!
2/Fuck off!
3/Go fuck yourself!
To be honest, I wouldn't blame them.
In case you have been in satellite orbiting the earth since June 2016 it was the UK that decided to leave the EU, we weren't kicked out as many people seem to believe. Therefore, the EU are not obliged to allow the UK to cherry pick what we want as if though we are some sort of special case.
What some people also fail to realise is that not only do the leaders of the current government have to convince the majority of 650 MP's that their plan is a viable one, the leaders of the EU negotiations then must put that proposal to 27 other countries and ask them and their respective parliaments to agree to it.
Not only that, they have to say to those nations, "Ok folks, this is the favourable exit deal we are going to give to the UK, but don't you go asking for the same thing, as you won't get it!"
Of course, to hard core Brexiters, this is joyous news and the 50 or so fruit cake back benchers in the Tory government will be feverishly planning to write to the 1922 Committee to destabilise the government and call for 'No Deal' Brexit, with Boris Johnson leading a charge that will make Churchill's Gallipoli strategy look like a triumph.
However, it is likely parliament won't stand for a 'No Deal' and as a result, chaos will ensue and there will be a general election and a delay in Article 50. This may be what we need to happen because whilst there were initially some well intentioned folk as Brexiteers, it is only people who should be in padded cells undergoing daily sedation that still think this omnishambles was a good idea.
Anyone who read or watched any of that Brexit think tank featuring Boris Johnson, Rees Mogg and a few other Etonian weirdos last week, should not be filled with confidence. They might as well have been sat on a transatlantic flight as all four engines failed, saying, "It might be a bit of a bumpy ride for a bit, but it should be alright in the end…we could improve technology and create a friction-less crash".
The question that is now being asked is whether the chaos that is unfolding will end with civil unrest?
It is now looking a case of when, not if. That is because we are, without a deal in place, heading for either a collapse in the economy, or a second referendum and a delay to Article 50. We are also of course, staring down the barrel of another general election without a clear winner.
The only thing to be decided is who will be causing the civil unrest. Will it be pasty faced malnourished unemployable rat boys in EDL shirts, or decent people who have lost their jobs and homes because their employer has shut down or moved to Berlin, Paris or Rome?
Will Boris Johnson, in a bid for a trade deal, be getting stuck on a trapeze in some former colony with an economy that hopes to outgrow Canvey Island by 2040? Or will someone, anyone, of any party, take control of the situation and add some common sense to what has been one of the greatest acts of national self-flagellation in the history of the world.
The cost of Brexit is now standing at around the £50 billion mark and counting. If anyone wants to tell me it will all be worthwhile they need a straitjacket.
Still, the will of the people must be respected.
---
No Replies to "Well, That Went Well Theresa!"
---