Cold, Wet & Miserable
Posted on May 4, 2012
For the last few days I have been battling against a tidal wave of depression that is about to engulf me. After weeks of desperately staying stoical whilst searching five day weather forecasts in pursuit of anything resembling a warm dry day, I have now caved in and given up. Two weeks after the start of the cricket season our ground at Oakley resembles the Somme, remaining totally unused, with this weekends fixtures at all age levels already cancelled, partly because of muddy wickets and partly because no one outside a psychiatric hospital would attempt to catch a fast travelling ball of rock solid leather when the temperature is hovering around eight degrees centigrade. Personally I would prefer acupuncture of the testicles to the painful humiliation of having my fingers shattered in to to tiny fragments on a cricket outfield as twenty-one other people guffaw at my misfortune.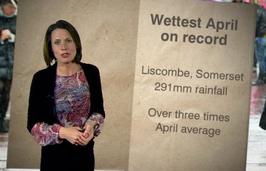 So, what looked like a hectic weekend is now a blank canvas as I try to come up with ideas to entertain myself in the face of a north easterly wind that is capable of making May feel just like February. I can almost cope with rain, but a stiff breeze direct from the North Pole is just not on, it really isn't. To make matters worse, just to totally take the piss, what must now be the wettest drought on record is keeping up it's relentless march, because you see, all the rain that is incessantly falling is being swallowed up by plants, flowers and vegetation, or simply just flowing off the roads and in to the rivers and out to sea before the imbeciles at Thames Water can get it in to their antiquated and useless privatised leaking pipes. If you have any foreign friends who want to see our green and pleasant land at its best, get them over here now, as there is green stuff bursting from every possible source….apart from the yellow stuff called rapeseed of course.
So, searching for a silver lining on all these clouds, I have attempted to lighten my mood by coming up with some plus points of the weather being so awful.
1. I can get pissed without worrying about oversleeping the next morning and "wasting the day"
2. All cricket matches are already cancelled, thus avoiding the crushing disappointment of a last minute abandonment
3. A full two weeks in to the cricket season I have yet to be bowled out (you can always alter stats to suit)
4. I can make extended use of this years "winter collection" of clothing
5. I can now watch tomorrow's FA Cup final, the most devalued competition in world football
I wrote a few weeks ago that a long dry spell in this country is always followed by a deluge of incessant rain as the weather here always averages out in the end, so perhaps, just maybe, in two weeks time, I will be eating a lovely picnic as my toes cool down in the fresh clear water pushing through the river Test in Houghton. This entry in to a balmy summer will be followed by weekend after weekend of blue skies and cricket teas as I produce exquisite cover drives to the boundary ropes whilst my envious team mates watch on and applaud in admiration.
Then I shall wake up, open the curtains and witness the rain cascading down my window as the thermometer nudges towards fourteen degrees centigrade.
Have a good Bank Holiday!
---
No Replies to "Cold, Wet & Miserable"
---