To be a Chairman
Posted on March 16, 2013
When I drove through the pouring rain down to Oakley Cricket Cricket club this morning with week to forget still releasing itself from my mind, I could have been excused for wondering why on earth I had taken on the role of Chairman. However, there is some sort of egotistical pleasure I gain from giving something back to the community and working with fellow volunteers who have become friends that I would have never met otherwise in area of Hampshire which is not my original home.
As someone who is addicted to any form of sport ( We are talking about a man who frantically paced the room as Nick Skelton was going for Olympic gold in Show Jumping) I have at some point been involved in many different sporting activities but none have gripped me in the same way that cricket does with its decent people and sociable nature. I have in my time tried all the following sports with the varying degrees of failure that comes with being the Jack of all but master of none:
Football: A decent forward but with a general dislike of footballers
Tennis: A reasonable serve and forehand but a backhand on a par with your average dormouse and an arse so short that it allows me to be lobbed the second I move from the baseline
Badminton: Reasonably agility but beset with the same issues I have with tennis
Golf: Once an 8 handicap but with equal ability to carry out angry assaults on golf clubs and an insatiable desire to carry out further assaults on clubhouse wankers
Athletics: I was once quick over ten yards until my body more often than not, overtook my legs and I ploughed the turf with my teeth
Rugby: A reasonable fly half but with a morbid fear of getting my face too near to the armpit or scrotum of another male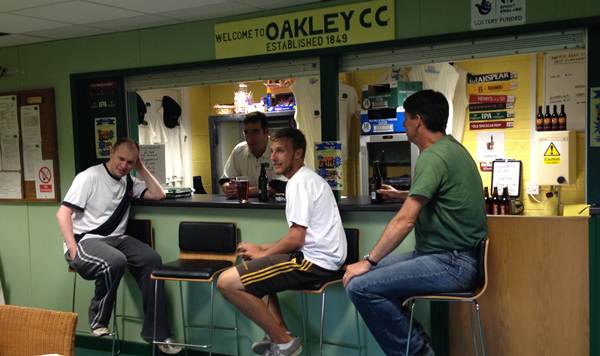 The bar at Oakley Cricket Club
So that leaves cricket, a game that I have failed to master to any real degree except the tedious skill of wicket protection that once had an opposing playing naming me Brigadier Blockaball. However,I just love the game and everything that comes with it, the banter, the friendships and the unique experience of playing sport with all age groups. Last year I played several times with a team that featured a 13 year old and a 63 year old. I can't think of another sport like it.
Of course, I decided to be the Chairman for the community spirit and the leadership qualities I can offer the club, but from a more sinister point of view, it also means that I can almost guarantee myself a game every week instead of being overlooked in favour of a nine year old with a better technique and the prospect of adding more runs to the scoreboard than me resembling a corpse with pads on. If you are prepared to stand in the pouring rain on a Saturday morning as a chairman resembling a drowned rat rather than a fat cat, it has to come with some benefits doesn't it?
So, even though the weather was at its foulest this morning, I reminded myself it is actually March and the new season is weeks, rather than months away and that filled me some much needed cheer at the prospect of another summer where I will try to plunder that elusive fifty runs that have have so far eluded me and never really looked likely. However, this year I have the benefit of guaranteed selection and my late friend and cricketing legend Tony Lydeard looking from above to spur me on. Hopefully, there is a club somewhere that has a paraplegic 80 year old pie chucker to aid me with my quest. Last year I took apart a tearful ten year old girl in an innings that included a first ever six but sadly, I ran out of Overs and ended unbeaten on 32, the closest I have come so far.
Since I started the Colts section with ten players post 2005 Ashes, it has grown, with the admirable help of others, to the point where we now have 90 kids from age groups nine to sixteen and several of that original group are now regulars in the men's teams. Now, as the Chairman, with the committee I have around me, the intention is to make Oakley Cricket Club somewhere local people want to be part of for playing and social reasons. If I achieve that, it has to be worth a bench with my name on it when I croak it doesn't it?
It's just a shame I wont be around to stick my big egotistical arse on it.
---
No Replies to "To be a Chairman"
---