Oakley Cricket Club-Blatant Advertisement
Posted on April 14, 2013
Since taking undertaking the role of Chairman at Oakley Cricket Club late last year, it has been a semi-realistic aim to create the club into a community facility that will encourage new members and support from the local public. It has to be said that this plan has been, to say the least, an ambitious one and in the words of John Lennon, "Some say I am a dreamer." However, I am fortunate enough not to be the only one and with the dedicated help of the team around me, the club is slowing evolving from a pig's ear into a silk purse.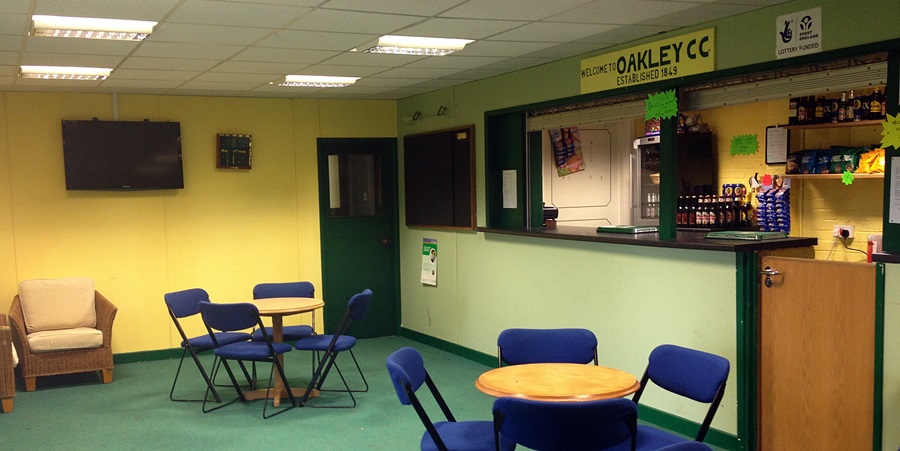 The club house (above) is a fine example; whilst it once had the look of an abandoned caravan and featured the heady aroma of rodent urine, it is now clean, fully re-decorated and safe for club members and the general public to use without a course of injections for typhoid. The veranda outside has been totally re-decked and such was my commitment to getting this completed, I was actually spotted yesterday with a battery drill in my hand; a sighting about as rare as a January Cuckoo.
Outside, the boundary fences have been repaired and the pitch is developing nicely despite the Siberian weather through March and early April. Sat in the rolling meadows and fields of rural Hampshire, it is difficult to imagine a better place to relax on a sunny weekend as you sip on a glass of Chardonnay or one of the varying beers from our bar which is also well stocked with snacks; It is also our intention (weather permitting of course) to have barbecues that will be open to members of the public.
On the field of play, we have three teams, two on Saturday and one on Sunday, as well Colts teams ranging from under nines to under fifteens. The Saturday teams play competitive cricket in the North Hampshire leagues whilst the Sunday team play friendlies with cricket clubs coming from as far away as London to visit our ground; many clubs have been visiting us for several decades. The Saturday first team is a very young side that is made up from players who have been developed in the Colts section; they have a bright future. The second's team and the Sunday side are made up of old farts like me and Colts who we are slowly introducing to men's cricket.
We have a coaching and social evening on Wednesdays where new and existing members are invited to come along for a training session followed by a beer and the regular season will be starting on May 11th.  So if you want to play local cricket please come and join in, I will personally guarantee you a warm welcome. If you just want to get out in the sunshine for an afternoon, get your tartan blanket out, get your weekend papers and come and relax in the countryside with a cold beer or wine (I think we may even be doing Pimms this year!).
You never know, you could even have your very own JFK moment by being there when I score a maiden 50, though I doubt it, because at the batting crease I resemble Stevie Wonder attempting to kill a wasp in a phone box; it is slapstick comedy at its best. That alone has to make 2013 the year when rather than wasting your life sitting in a thirty mile tail-back just to get a square foot of Bournemouth beach, you are instead, completely chilled out reading your paper, watching a bit of cricket and sipping alcohol that is half the price of some crappy Harvester.
I hope to see you there this summer (non-violent dogs welcome).
For more information please visit www.oakleycricketclub.co.uk
---
No Replies to "Oakley Cricket Club-Blatant Advertisement"
---