Dai & The Ramblers at The Hyde Tavern
Posted on December 7, 2017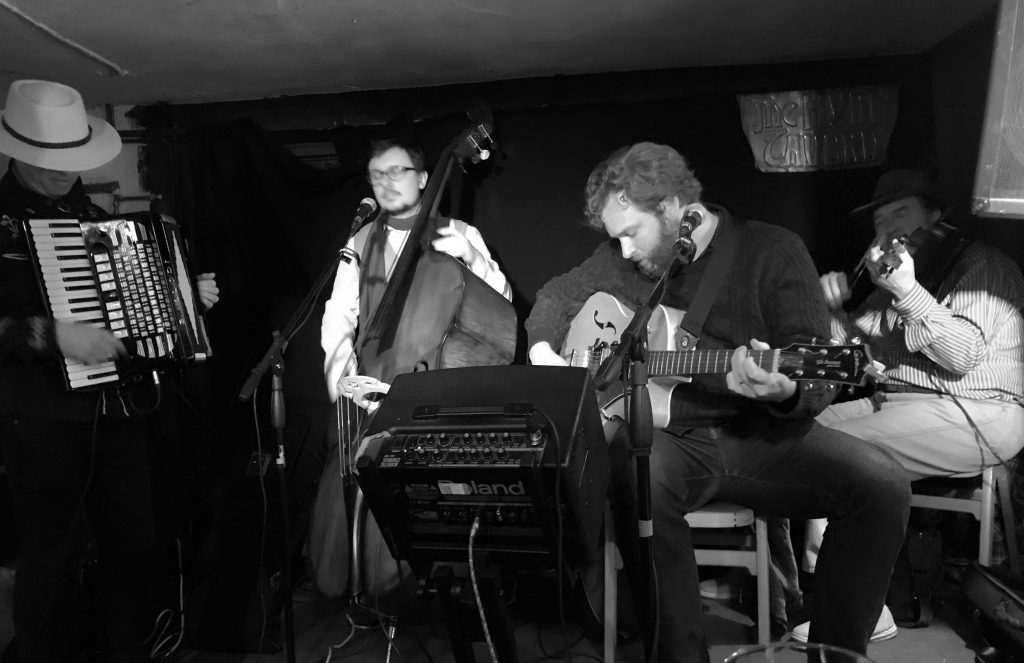 It is always difficult to write a music blog as I am not a music critic working for MOJO or the NME but what I have liked doing over the last decade is listening to as much music as I can, rather than becoming entrenched in one genre like someone saying 'You can't beat a good pint of Fosters'.
I first heard Dai and the Ramblers late one stormy night on Radio 6 whilst I was driving down the A303 and I was immediately hooked to the song which, fittingly, was called 'In the Middle of the Night'.
So, imagine my delight when, last week, I was in The Hyde Tavern pub in Winchester and I saw a poster up advertising a gig with the band on the 6th December. I proceeded, with some excitement to buy two tickets for my partner and I.
The Hyde Tavern is a tiny little pub (and also one of the best in Hampshire) so it did stretch my imagination as to where they would be playing, particular with a whopping great double base being a key ingredient to their sound.
It turned out that the gig was to be in the tiny but cosy and enchanting cellar area of the pub; with the landlady's daughter Ruth (also a singer) providing the acoustics in what was sure to be the most personal performance you could possibly experience.
Dai & The Ramblers are an eclectic looking bunch of guys and this is reflected in the music which to my relatively untrained ear, zipped delightfully from American Blues, to Country & Western, to Folk, to Soul and even, dare, I say it a smidgen of Reggae blended with French Cafe music.
A snippet of 'In the Middle of the Night' at the Hyde Tavern
It really is wonderful stuff and lead vocalist Dai Price, a chap whose personality you immediately warm to, has a voice that is so extraordinarily smooth, it has to be heard live to believe. It really is that good, I was so impressed yet his voice was certainly enhanced by the talented guys around him on accordion, fiddle and double base.
I guess what made the whole experience so sublime was the fact we were in an audience of around 20 packed into the little cellar. Quite how the band found themselves in this tiny little pub in Winchester I do not know, but everyone who attended was pretty much awestruck.
It will be interesting to see how Dai & The Ramblers progress. The excellent national and international reviews suggest they will do well, however, they may not be palatable in the mainstream music industry in the UK which has on the whole, been dumbed down to sanitised nonsense where what someone looks like is far more critical than the sound.
To refer to the alcohol analogy, if Ed Sheerin was a pint of Fosters, Dai & The Ramblers would be a micro-brewery real ale with different flavours zinging about your mouth leaving a taste you had never experienced before but would certainly want more of.
For what its worth, I wish them lots of luck in the future.
Other reviews:
"An organic, swinging masterpiece… inordinately tight" Keith Ames (The Musician)
"I love his voice; I love the whole band." Paul Heaton 
"Just about as good as it gets. One of the best bands I've ever seen, and over 50+ years, I've seen them all"  Ted Carroll (Ace Records)
"Rocking… entertaining… spirited"  John Clarke (The Independent)
"A most eclectic album and I enjoyed all of it" Paul Jones (BBC Radio 2)
"A joyous romp…a cracking album… will raise your spirits and gladden your heart" Michael Farley (Americana UK)
---
No Replies to "Dai & The Ramblers at The Hyde Tavern"
---