Steve Smith Bringing Back Memories of When I Cheated Excelsior Angling Club
Posted on March 30, 2018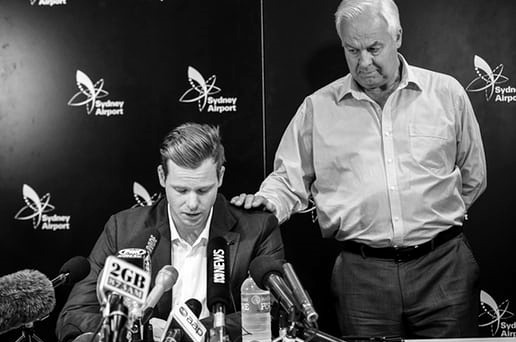 Wow, what a week it has been for Cricket Australia. In many ways, it has shown how quickly the media are on to these things and how cheating in sport can descend into such a state that the culprits are treated like child murderers.
No one quite knows the full story as once it evolved there was undoubtedly a lot of arse covering taking place within Cricket Australia. The truth is, ever since calming down a little bit after the tragic death of Phil Hughes in 2014, Australia, led by the abrasive Darren Lehmann, have become increasingly intolerable with their bullying culture.
Of course, like all text book bullies, Australia have been a great bunch of guys when they are massacring the opposition but after coming up against a South African side not willing take any nonsense on their own turf, it was only going to end one way and that, with Lehmann and David Warner at the forefront of things, meant toys flying out of prams, claims of being holier than thou and eventually, as a last resort, cheating.
As far as I read it, David Warner is the premier cheat and bully, putting it upon one of the more junior members of team (Cameron Bancroft) to sand down the ball to create what, for you non-cricket fans, is known as 'reverse swing', where the ball moves in the air as it gets worn on one side (or sanded down with coarse sandpaper).
What struck me is that it is common knowledge that Steve Smith walked in on Bancroft and Warner as Bancroft was being taught how to sand the ball down and said, "What are you doing?…actually, I don't want to know what you are doing".
So Smith, one must assume, either had the attitude that if this action won Australia the game, so be it, or, he is just plain scared of challenging his vice-captain, Warner, a tough lad from the wrong end of Sydney who has a history of punching people who challenge him and also taking fair play to the edge of the abyss.
Cricket Australia have to take some responsibility here, as at some point, they and indeed, Darren Lehmann, decided to make such a toxic character as Warner, vice-captain. They may have thought that giving him responsibility would quell his appetite to win at all costs but when Warner came up against it his instincts as a cheat got the better of him.
Was Smith a coward for not confronting Warner or does he carry the same instinct? Only he knows that.
At the end of the day, whilst we sit on our moral high horse, there is an instinct to cheat in all of us. I will give you a personal example that went beyond creating a better ball striking position in a golf game or diving in a football match (I have done both).
Let me take you back to the winter of 1982. I sat two points behind long-time leader, Nick Fedarb, in the Excelsior Angling Club junior championship. Fedarb had fallen ill before the last match of the season so all I had to do was finish the match in the top three places and I would be crowned as the champion.
However, the temperature was low at Calcot and the prospects of a catch of any sort were diminishing by the minute. A blank 'weigh in' sheet meant no points but a fish, no matter how small and transparent, meant that I would be crowned champion.
Enter, from stage left, Martin Hutchins, a long term friend of my two elder brothers who used to give me lifts to the matches.
Martin had what was known as a 'micromesh' landing net and upon seeing a tiny shoal of sticklebacks in the shallows, he scooped some out and put them in a margarine tub and handed them to me, along with the Excelsior Angling Club Junior Championship.
I hadn't thought about cheating but when Martin put the idea in my head I have to confess that I thought it was a brilliant idea. However, when I was in bed later that night, I couldn't help but think of Fedarb, in bed with the flu, learning the news that he had been pipped to the title courtesy of a stickleback that barely registered an inch in length.
Imagine if I had got caught and I had to sit at a press conference with Martin trying to explain why we did such a stupid thing? It would have been even worse for Martin as I was just 14 and he was 22. In many ways, I was the victim, my innocent young mind corrupted by the dastardly Hutchins, who with a recent Master's Degree from Loughborough, should have known better.
Reflecting back on that, I can understand how Smith must feel, albeit it on a biblical scale in comparison to the Excelsior Angling Club Junior Championships. The humiliation of getting caught on an international stage is never, ever, going to leave him, even if the dramatic tears and emotional breakdown have allowed him some pity.
After all, whilst Assad blows up schools and children's hospitals in Syria, all that Smith did was allow cheating to take place in the sport he loves and therefore giving the Australian Prime Minister the platform to claim he is the bastion of Green and Gold morality. You can tell the silly twat loves all the attention.
Smith's punishment will come in the dark hours as he knows that in the sporting arena, he is tarnished forever, so maybe that should be punishment enough? There is no way back from such blatant cheating but it seems that some folk won't be happy until he is hanging from a light rose.
As for Warner, he comes across as the kind of bloke who thinks that cheating is part of winning and that if the standard bullying and sledges don't work (as in South Africa recently) sinking to unprecedented levels of sporting corruption is just dandy.
We must also remember that part of the attraction to sport is dastardly behaviour. Sport needs its pantomime villains and that is what has made the South Africa V Australia Test series so compelling. Australia has dished out their standard bullying tactics and South Africa have hit them back. It has been great to watch.
In summary (as I could go on all day) it is my opinion that Cricket Australia seem to have got away with one here as after all, it is them who created a culture within the set up and have actively engaged in employing abrasive characters like Darren Lehmann and David Warner in key roles suited to a win at all costs set up.
I am not sure what else they were going to expect when the time came when the bullies got bullied?
---
No Replies to "Steve Smith Bringing Back Memories of When I Cheated Excelsior Angling Club"
---