Spurs Fail to Deliver Last Minute Catastrophe!
Posted on April 18, 2019
Spurs players were left reeling last night after just missing out on their finest ever catastrophe.

With the final seconds ticking away, Christian Eriksen delivered a sumptuous misplaced pass that landed at the feet of Sergio Aguero. Sterling slid the ball home and Tottenham's dream tragi-comedy was complete.
And then it wasn't. The scoreboard lit up…offside! The goal would not count. Spurs would progress to the semi-final after all. At the final whistle their players fell to the ground. They knew their place in Tottenham failure folklore was over.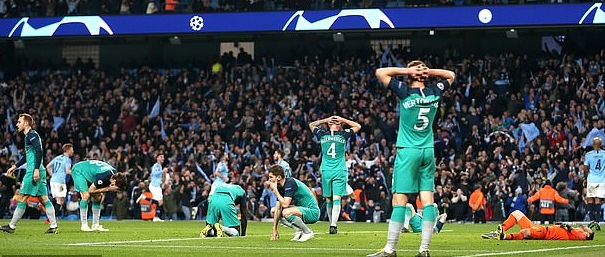 This, without doubt, would have been Tottenham's most tearful defeat. Fans had already started to prepare to be the last pathetic, sobbing figure in the ground. VAR robbed them of a 5 second appearance on perpetual newsreels last night.
Spurs must now pick themselves up. They need to find a way to complete a cataclysmic balls up against a talented young Ajax side. They certainly have the players to do it. Eriksen apart, there were several spectacular accidents waiting to happen last night.

However, they scored three goals at the Etihad last night and nearly lost. How can you compete with that?
Full credit must go to Manchester City. After decades as a comedic disaster zone under the shadow of bitter rivals, Manchester United, they have been burdened by success in recent years.
This catastrophe proved that despite an abundance of talent, Manchester City are determined to stick with their romantic traditions as perennial disaster merchants.

You can only admire that.
---
1 Reply to "Spurs Fail to Deliver Last Minute Catastrophe!"
RICHARD CHIVERS

April 19, 2019 (1:36 am)

It was a great game, like Watching Reading in the Full Members Cup. Tottenham could be the new Reading.
---