An Away Day at Watford FC
Posted on January 17, 2012
George and I went to Watford to watch Reading play on Saturday, it was my first away day game for many years and a nostalgia trip as to how football used to be before the stadiums were upgraded and sanitized in to modern arenas fit for all kinds of sports and pop concerts.
Of course these changes are a good thing, stadiums are clean, the WC facilities are use-able without the need for a series of injections and women & children can visit games without any fear of violence or standing in a puddle of urine.
Reading football club have seen average attendances rise by several hundred per cent since the the completion of the Madjeski Stadium in 1998 and my children have watched football played at a level that my friends and I regarded as unthinkable 20 years ago. Reading are now an established Championship side who occasionally flirt with the Premier League.
Yes, this modernisation of the national game is a good thing, I think you will all agree.
So why then, when I was at Watford on Saturday, did I feel inner warmth and a yearning for the past as I experienced the Victorian terraced streets, the working class boozers and the aroma of fish & chips, diesel heaters and cheap pies?
It took me back to days out with my mates to places like Bury, Stockport & Rochdale; days when expectation was low but the thrill of being somewhere new and a ground that had not been visited before was high. The excitement came from somehow getting to a pub near a ground in a working class town before kick off.
More often than not this was after a booze and marijuana fuelled roller coaster of a journey up the A34, through the high rises of Birmingham on the M6, into Staffordshire and finally Lancashire, seemingly a million miles from the middle class suburbs of Hampshire and Berkshire where we were bought up.
Even the threat of getting your head kicked in for being a southern softy had an air of excitement about it, not that it ever happened, despite a few close shaves.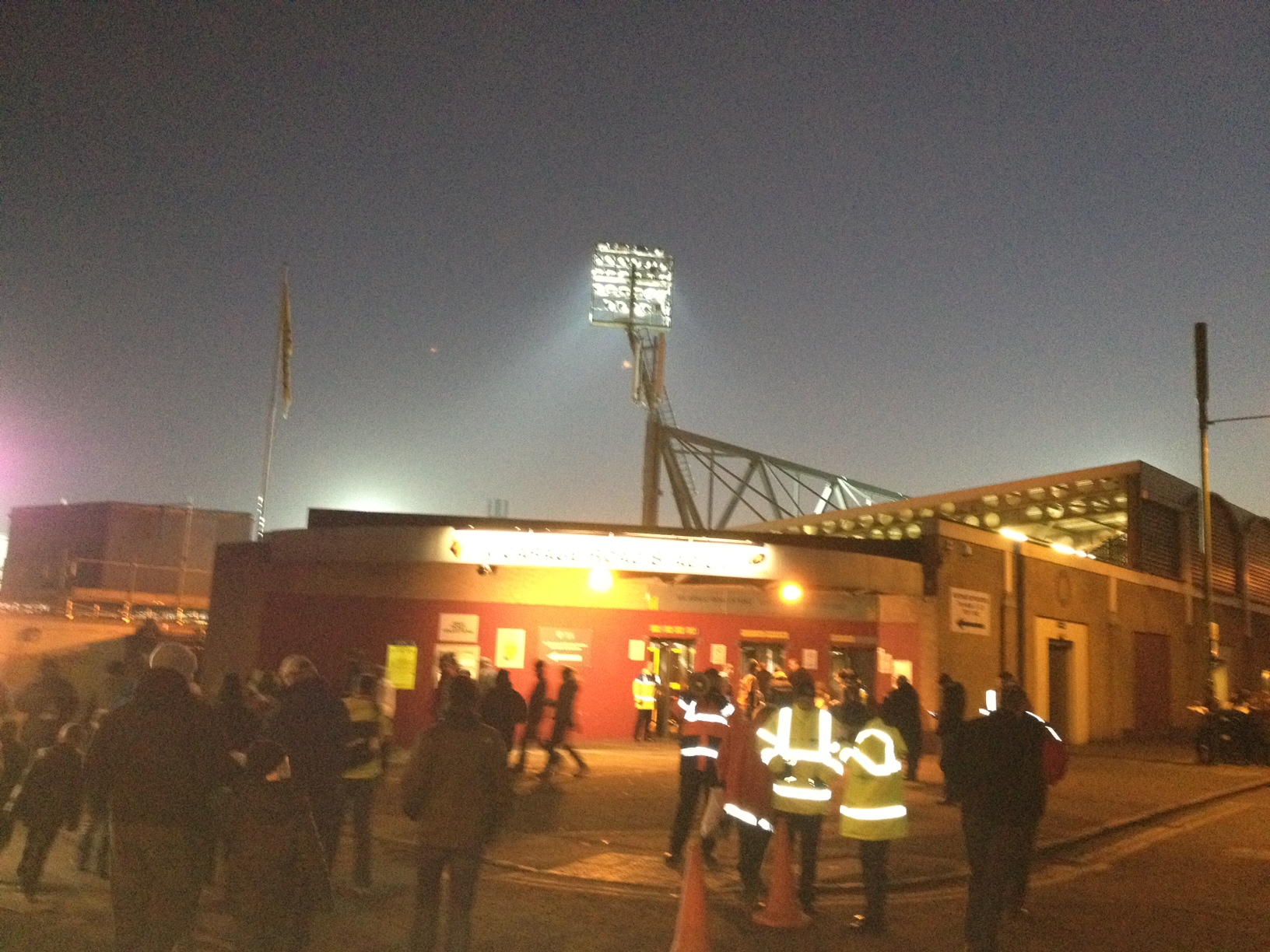 Fans of Watford and Reading meander to the game
The walk to the Watford ground has all those attributes, it is essentially a shithole but the kind of shithole I like, the cold air and the old fashioned floodlights gave it an extra feel of the 1980's as did the pub we visited, a pub that was in complete contrast to Beefeater's, Harvesters and imitation Irish bars near the Reading ground.
The Madjeski is a ground where the only other opportunity for a beer with your mates is in the cold and miserable concourse inside the stadium that is devoid of any soul but features ample opportunity to purchase ludicrously priced keg bitter (ironically called Best) in a plastic pint container.
As George and I left the pub in Watford, we were met with various take away shops and vans competing for business and upon arriving at the ground, I smelt a whiff of something I thought I would never experience again at football…….the heady cocktail of Bovril, stale beer, burgers and piss.
What a great day this was turning in to, the kind of day I used to have with my old pals Hutch, Kev, Del, Stewart, Darren and Cunni. I really wished they were there with me to enjoy this "Ashes to Ashes" style return to the mid eighties. If life is so much better in these new super bright and clean stadiums, why did my son enjoy this game so much, far more than the  home games at  the Madjeski in fact?
The answer is more than likely because away games feature genuine fans; people who travel to all corners of the country to watch and loudly cheer on their team, a bit like I used to with my mates. Travelling football fans are weirdos really, but when you see them wearing familiar club colours at away games, you feel like they are a friend, even though you probably wouldn't socialise with them at any other time in your life.
I drove to Hartlepool and back once, an epic journey to watch 90 minutes of football, complete insanity to anyone bordering on normal but perfectly reasonable to a single bloke and his friends with a perpetual vacant space on a Saturday afternoon calendar. Don't forget the pubs used to shut at 3.00pm on a Saturday back then, so football was a great time consumer on a wet winters day. It was Barnsley away or an afternoon watching Grandstand waiting for the pub to open…..no contest really.
Trips to Lancashire were common place, as in the space of a few miles there was Burnley, Bolton, Blackburn, Wigan, Blackpool, Stockport, Bury, Rochdale, and Preston. How they have all survived as a going concern I just don't know, especially when they are overshadowed by the giant clubs of Manchester and Liverpool.
I guess that's why all the grounds were built amongst the terrace streets, so people could walk there. I keep forgetting there were no cars at the time of construction, support truly was local. Along with the stadium came business for the pubs, cafe's and burger vans. You don't get that at stadiums like the Madjeski, the Walkers or The Reebok. At Elm Park there was a pub nearby called The Spread Eagle that relied on football, whether it is still there I don't know.
Football has evolved dramatically since the 80's, mainly for good reasons but Saturday's game got me thinking why we go to watch games, what is it that takes us there? Is it to sit in comfortable seats consuming over priced franchised food and drink whilst criticising our teams for not reaching the levels of Manchester United and Barcelona, or is it to see gladiatorial local derbies versus Swindon and Oxford or rain soaked Lancashire afternoons that feature crunching tackles, muddy pitches and Bovril that blisters the roof of your mouth?
I am not to sure anymore but during Reading's second season in the Premier League, I started wondering what it was all about. Where as the fun in getting stuffed week in week out by Arsenal or Manchester United whilst surrounded by the middle class non supporters of Berkshire who applauded Henry or Fabregas as they tore Reading to bits.
It  just wasn't the same as a late Trevor Senior winner sparking off scenes of joy among 300 die hard's away at Bradford or Cardiff, but that is maybe just me getting and old and thinking of that classic phrase "nostalgia 'aint what it used to be." Maybe so, but try asking fans of Bury, Rochdale and Halifax what Sky and the riches of the Premier League has done for them, apart from put them on the brink of extinction.
If SKY and the Permier League are so wonderful, why did George love the Watford game so much, and why is he trying to persuade me to go to Doncaster away? A local boy who decides to go for the easy option of supporting Manchester United will never feel the same thrill as one from Reading, Oxford, Portsmouth or Southampton when a late winner hits the net, it is too hard to explain why, it is just one of the facts of supporting your local team, no matter how shit they are.
Why else would someone want a ticket for Doncaster away as a 16th birthday present?
---
10 Replies to "An Away Day at Watford FC"
January 17, 2012 (10:32 am)

I remember going to Watford many many years ago and we had to walk through an allotment round the back to get in. I LOVE the old grounds.

I went to Brentford before xmas with the mighty Basingstoke Town – so much more character. This is in complete contrast to The Emirates which is not football as I remember it.

My favourite has to be The Dell though – the first ground I went to.

Richard Chivers

January 17, 2012 (10:36 am)

There are some cracking birds in Donny and they are always up for it!

Bob Lethaby

January 17, 2012 (11:05 am)

Good old Chivers, he never changes!

Nick Mabey

January 17, 2012 (12:01 pm)

My favourite away trip was a Sunday F A Cup tie away to Sheff Wed (pre Hillsborough disaster). We went in a minibus, cracking the first can at approx 6.55am. By the time we got somewhere near (Chesterfield?) it was midday and the pub opened to 14 drunk southerners gagging for some real ale and a pie. It was all we could do to drag ourselves away for the football. Arriving outside the ground our response to the home supporters singing "Wednesday, Wednesday" was "Sunday, Sunday," interspersed with huge laughter at what we thought of as possibly the wittiest song ever. I remember very little about the game apart from it was a 1-1 draw (we tonked them 4-0 in the replay 3 days later).

Bob Lethaby

January 17, 2012 (12:08 pm)

For the record, Nick Mabey is a Southampton supporter.

Mark Cunningham

January 17, 2012 (3:13 pm)

Oh the deep joys of trips to northington pissed and stoned. Highlights surely include that copper in Blackpool with his sheer disbelief that you had a bottle of benylin in your pocket to combat a cold and driving back from Cardiff down the mway with the indicator on whilst driving about 30 mph in the middle lane. God it's shit being grown up

Bob Lethaby

January 17, 2012 (3:44 pm)

Never have I driven so heavily under the influence of B class narcotics as I did on that return trip from Cardiff in 1988, that Austin Maxi felt like it was doing about 150mph, though the tailback from Newbury to Cardiff confirmed that I was in fact only doing 30. The trip to Blackpool in Stewart's Marina was another classic, it is hardly to believe now that we set out on these journeys with only a 50-60 per cent chance of the vehicles actually getting us to the destination.

Colin Norton

January 17, 2012 (7:30 pm)

Bob, you might want to check but I think that Doncaster is a relatively new stadium, so you might have to put the nostalgia on hold for a week or two. The old ground was wide open and windswept, my father took me there once to see a player by the name of Alex (It could have been Alec) Jeffries, a lad who could have been great until injury ended his career. OMG that is nearly fifty years ago before you were born…….Sh*t

March 14, 2013 (8:51 am)

It's a shame you don't have a donate button! I'd definitely donate to this outstanding blog! I guess for now i'll settle for book-marking and adding your RSS feed
to my Google account. I look forward to fresh updates and will talk about this site with my Facebook group.
Chat soon!

November 21, 2013 (9:13 pm)

Fantastic article mate. Made me laugh as I am the only Watford supporter living in Doncaster LOL.
---