I Went Glamping and all I Brought Back Was This Terrible Head Cold
Posted on October 3, 2018
The last of the 50th Birthday celebrations were completed last weekend with a Glamping trip for my friend, Peter, which was kindly funded by his wife, Amanda.
It was good to see old friends again (there were ten of us in total) and I was grateful to see that I wasn't the only one who had developed a limp and strange caveman noises to accompany simple tasks like doing up shoelaces or getting out of a car.
This glamping trip involved staying in Yurts on a renovated dairy farm in rolling hills just outside Shaftesbury. A yurt is like a huge tent made from wooden frames and animal skin and originates from Central Asia in places such as Mongolia, where if travel presenter, Simon Reeve, is to be believed, it is bloody cold.
If you click on the video below (made with my own fair hand) you can see for yourself what a Yurt looks like situated on a farm in rural Dorset rather than Mongolia.
Fortunately, the farm had an outhouse with six really well kept bathrooms, a large kitchen with a host of appliances and a dining room with a long table. This allowed us to eat and drink merrily in the warm as the temperature plummeted towards freezing outside.
We then sat around the campsite fire joking and reminiscing in between stoking the log burners in our yurts so they would be toasty warm when we went to bed. This is where it became obvious that we were not experienced Yurters and would have embarrassed ourselves in front of Batsaikhan, a hardy herder from Mongolia.
Without thermostats, temperature control in a Yurt is not simple because logs burn quickly. This leads to a fitful night of sleep where it seems that at one moment you are in a room hotter than bingo night at an old people's home and the next, like you have woken up in Greenland on Christmas morning.
I reckon that during the first night, where the temperature dropped to about 2 centigrade outside, our Yurt had a temperature range between 4 and 30c depending on when I put more logs on, which was generally when the cold attacked my beer filled bladder.
Still, as a bonus, this meant I was up and about just as the sun was creeping above the distant hills. What a wonderful morning it was, with deer on the horizon, a light frost, blue sky and the sound of the birds awakening.
It was absolutely serene, at least until I literally trod on a roosting pheasant that let me know its anguish and in doing so, took another few hundred beats out of my ageing heart.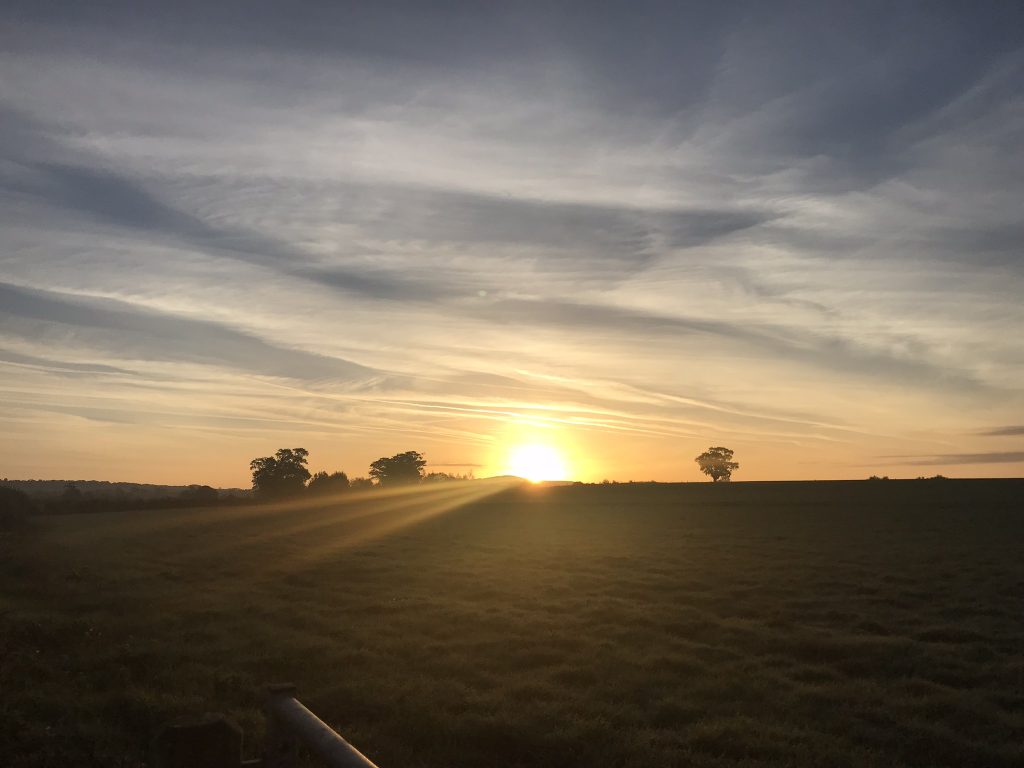 Daybreak in Dorset: I had a stunning early morning walk through the countryside
After a hearty breakfast, we drove to the nearby market town of Shaftesbury for what we are now old enough to describe as a 'potter around'. Remarkably, despite being just 38 miles from my house, I have never been to Shaftesbury but I guess I haven't been to lots of other places either.
Initially, Shaftesbury doesn't seem that impressive but of course, once you get to the bottom of the High Street, you are greeted with the quite wonderful Gold Hill, home (for those of you old enough to remember) of the Hovis TV advert in the early 1970's.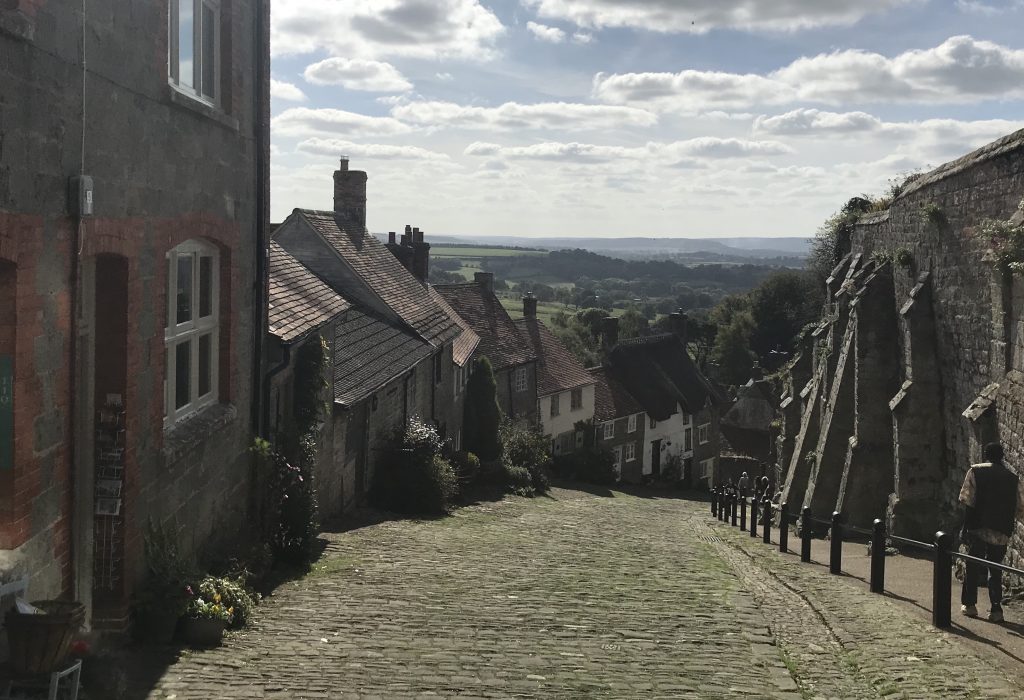 Gold Hill: Home of the memorable (if you are over 40) Hovis advert of the 1970's.
Back in the 70's and 80's it was quite common for southern football fans to hum the Hovis tune to northern types as if to indicate their depressing lives, so it seems quite ironic that only Brighton, Portsmouth, Southampton, Plymouth and Yeovil could boast being further south than Shaftesbury.
Gold Hill was the setting for an excellent 'Two Ronnie's' spoof of the advert and it also has a free museum where you are greeted by a woman who looked like she has had sex just the once and didn't enjoy it, choosing instead to get her thrills from the sale of a tea towel.
So, after the trip to Shaftesbury it was once again time to show our age with an afternoon nap back at camp before a meal at a pub called The Ship, which is nowhere near the sea.
The food in The Ship was pretty decent if not spectacular but the one noticeable thing was that the temperature in the pub was on a level with of our Yurt at its Friday night peak. We returned from there to the cold of the campsite, then the heat of the fire, to once again, the fluctuant heat of the Yurt.
Dealing with the change of the seasons is always a tricky 'what to wear' time, but this was chaotic and did for Jennifer, who crashed out early, and Peter, who vomited with such intensity, he awoke the next morning with two black eyes.
Fortunately the temperature rose under clouding skies overnight, so the need for logs at 3.00 AM was not there, and it was a really nice night of sleep in close to ambient conditions.
So, after a country walk and another hearty breakfast, we headed homeward after an entertaining weekend where we all agreed another day to get used to everything would have been about perfect.
Because of geographical reasons, we don't get together enough really. This did make me wonder whether the next time we do this type of thing it could be on a Saga trip where we are on Zimmer frames passing the time of day trying to remember each other's names.
First of all, I must beat off this head obligatory head cold. It was always going to arrive after a fine weekend when summer descended into autumn as our Yurt went from Mumbai to Siberia in the space of two hours.
AAAACHOOOO!!!!!
---
No Replies to "I Went Glamping and all I Brought Back Was This Terrible Head Cold"
---