Killer Mild Weather Expected to Meander in to Britain!
Posted on November 11, 2015
When September arrived this year, I decided that because I have moved around so much in the last year and had experienced the pleasure of having many of my items getting lost, or indeed, stolen, I would treat myself to an 'Autumn Collection' of clothing.
Fortunately, common sense prevailed and I chose to ignore a plethora of Facebook and Twitter links associated to Nathan Rao and The Daily Express; otherwise I would be sat here in an expedition Parka and heavyweight thermals as I attempted to type this post in my US Army sealskin mittens.
Well, I wouldn't be I guess, as they would all be hanging up, looking lost and redundant in my wardrobe…next to my autumn collection of jumpers, coats and shirts that are also being denied the opportunity to complement my svelte figure of twisted steel and sex appeal.
Meanwhile, in Canada somewhere, an on-line North Pole adventure company would be wondering how they had managed to sell hundreds of pounds worth of clothing to a forty-something bloke in Hampshire, England; a man with no history of exploration beyond the South West Coast Path and the Kennet & Avon canal.
"Hey look at this order Brandon…another one of those English guys in a mid-life crisis, planning to die in Greenland I guess…stick him on the mailing list and get what you can out of him before gasses himself in a bodged igloo."
Of course, if dear old Nathan was to be believed, we would now be in week three of a white-out that was set to last until March, with the novelty of building snowmen long gone as we sat and watched incessant BBC newsreel of an office worker moronically undertaking a stationery wheel-spin on a slope in some wretched part of Suburbia.
Still, if you had been a maverick and chosen to log on to the website of the meteorological office, the recognised and most reliable UK weather forecaster, you would have known that talk of getting savaged by polar bears whilst out walking your dog was the stuff of fantasy and that the autumn weather was going to be as it always is in Britain.
Rather non-descript, a bit like a Rich Tea biscuit, albeit, dipped in slightly warmer tea than normal.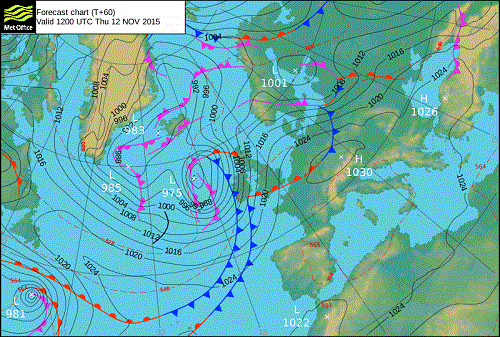 The latest Met Office chart 
All this information is available on the Met Office website which, over a five day period at least, gives a reasonable assessment of weather conditions whilst, unless there is a settled weather pattern (a blocking high pressure) they are generally reluctant to get involved in seasonal forecasts.
No-one as yet, is capable of offering a seasonal forecast and thank God for that I say, because I couldn't cope with being told in May that it was definitely going to rain until September. Hope is all we have with British weather and if that was taken away, I would have to move to the Mediterranean or kill myself. Even if an accurate forecast did become available, any sensible government would have to ban it to quell the exodus.
However 'MILD SOUTHERN AIR STREAM SET TO MEANDER INTO BRITAIN' doesn't have the same ring to it as 'KILLER ARCTIC PLUNGE SET TO BATTER BRITAIN' so Nathan will carry on regardless, quoting weather forecasting agencies you have never heard of called Noddymet, Metwank, or something of the like.
So, until you hear otherwise from the Met Office (I've even provided you a link) you can keep your flip flops on and leave your autumn woollies redundant in the cupboard for at least another week as apart from a little temperature drop at the weekend, it will stay mild.
I don't know about your woollies, but mine are starting to look a little offended; they have been hung there for 8 weeks now wondering what they have done wrong. I am sure their time will come, probably around about the start of the cricket season in mid-April.
Around about the same time Nathan predicts a 'KILLER SNAKE INFESTED SAHARA HEATWAVE TO HIT BRITAIN!'
click on the link below for latest forecasts and if you are as sad as me there are also some interesting articles too!
---
No Replies to "Killer Mild Weather Expected to Meander in to Britain!"
---