Kane Earmarks Man City as Metatarsal Date!
Posted on October 23, 2017
Spurs in-form striker, Harry Kane, has earmarked the home with fixture with Manchester City as the day he would like to break his 5th metatarsal. The fixture takes place on the 14th April next year and leaves an ideal time frame for Kane to get almost fit for the World Cup Finals in Russia.
Speaking after his virtuoso display against a really shit Liverpool side yesterday, Kane confirmed that April would be the ideal time for the injury, which he hopes, would take place at a packed Wembley Stadium against City.
"I'm not writing off Brighton away the week before but yes, ideally, the City game is where I would like to put my World Cup dream in jeopardy. Hopefully, I should be on 30 plus Premier League goals by then, so there is no reason my metatarsal can't have the same public impact as the injuries suffered by Becks (David Beckham) in 2002 and Wayne (Rooney) in 2006", said Kane.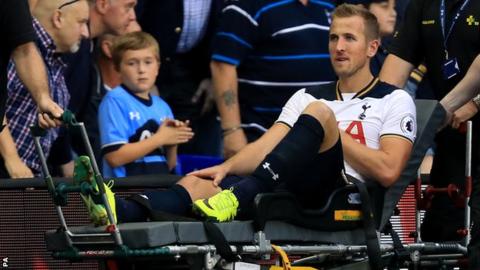 Kane Pain: Harry Kane is looking for an April injury
After consulting specialist surgeons, Kane has been informed that if the injury takes place on or around the 14th April, he should be at around 60% fit and ready to play England's third group game. It is at this point where it is thought England will need a victory by three clear goals to progress into the latter stages.
"With a broken metatarsal, I would expect that Harry could play for 70 minutes in the last group game before being withdrawn and replaced up front by Gary Cahill as England desperately look to score their first goal of the tournament", said Professor Ernie Fortune, a football injury specialist.
Meanwhile, Kane's Spurs team-mate, Dele Ali, has been installed as the favourite to be the England World Cup scapegoat by betting giant, paddywak.com, who have made the midfielder 2/1 favourite, probably via a straight red card.
"Dele Ali is an excellent player but he is not afraid to put his foot in where it hurts and we believe that with an experienced Italian or South American constantly niggling at his ankles, he (Ali) will be like a pressure cooker ready to blow. He is an outstanding candidate for a straight red, he's got it written all over him", said Paddywak spokesman Nick Knack.
As a result of the latest odds, Frank Brexit, the 52 year-old head of the football supporter group 'Thick Cunts Alliance' has confirmed that plans are already in place to make an effigy of Dele Ali and claim that he is a Muslim.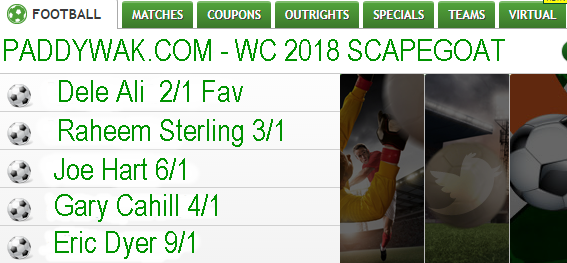 ---
No Replies to "Kane Earmarks Man City as Metatarsal Date!"
---