Can England Go All the Way?
Posted on July 11, 2018
I don't know about anyone of you reading this but I can't concentrate on anything today, making admin cock up after cock up to the point where I am going to pack up for the day.
I haven't done myself any favours, playing a 1990 hit list on YouTube and reflecting back on when West Germany broke our hearts on that sultry Italian evening that is etched into my memory like it was yesterday. The tragedy, the emotion and the tears were like nothing I have experienced before or after that frantic evening.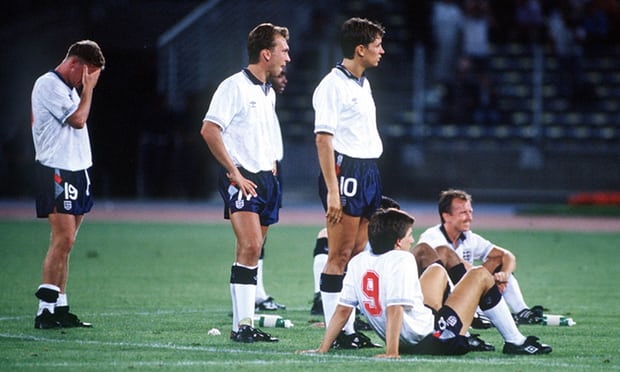 Heartbreak: The fallen heroes of 1990
Can England do it this time?
In 1990, I remember Des Lynam saying before the West Germany game (to the tune of Killer by Adamski) "Three teams can win The World Cup…Argentina, West Germany…and England!"
With Belgium gone, the same rule applies but this time it is France, Croatia…and England. England, one of 3 teams who can win The World Cup? I can hardly believe I am writing that.
Croatia and their much celebrated midfield are not in the same class as the West Germany team of 1990 and they may well be vulnerable and tiring defensively, which will be a huge problem if England can exploit them for pace.
However, what England lack is a Luka Modric, or to hark back to 1990 again, a Paul Gascoigne. Someone who can do something extraordinary that can change the flow of a game. However, what they do have is tremendous belief, desire and the exuberance of youth that appears to have the edge over a Croatian team that looked emotionally and physically shattered after finally disposing of vibrant but limited hosts, Russia, on penalties.
It's as simple as this. It is a game where unity, youth, and desire, has to overcome individual brilliance of Croatia. Furthermore, perhaps it is a time when someone with obvious potential to be destructive (Raheem Sterling?) will get the icing on a cake filled with honest endeavour?
The truth is, we just don't know how this is going pan out as in football, a sending off, a bizarre mistake, or a wonder goal out of nothing, can inspire one team whilst deflating another in equal measure. That is why the streets will be empty tonight as there is no other sporting drama that compares to football, a game that consumes otherwise stable folk and sends them into delirium. I love all sports but nothing compares to the drama of The World Cup.
What I do know is that for some reason (maybe age?) I feel calmer about England's prospects than I did in 1990, when we came up a team driven by huge willpower featuring the impenetrable brilliance of Lothar Matthaus, who had spent The World Cup gliding around the pitch and firing in goals and killer balls from all angles.
England were brilliant that night in Turin, far better than they had been in the rest of the tournament. It remains one of the great sporting spectacles of The World Cup but even now, I find it harrowing to watch and last night when the BBC showed clips from a Bobby Robson documentary and Gary Lineker said to Alan Shearer, "Bobby would have loved this wouldn't he?" I found myself battling tears of nostalgia.
England can do it tonight, I really believe they really can if things go there way. In truth, what we can't predict is whether they will come home as heroes (like in 1990) or overcome all the odds and come back to England next Monday as legends?
I will leave you with one of my favourite songs that came up on my 1990 playlist.
Go well boys.
---
No Replies to "Can England Go All the Way?"
---