Ashes Failure is Another Disaster For Participation in Cricket
Posted on December 18, 2017
If you don't know anything about cricket or are not interested, let me apologise for this blog. If you don't know anything about cricket but you are interested anyway, the England cricket team flew into Australia a couple of weeks ago seriously undermanned and, if we are realistic, without a hope in current Ashes series.
A combination of lack of ability, lack of form and off the field incidents involving their talisman (Ben Stokes) left the team totally exposed against what, in comparison to the glory days of Warne, McGrath and Gilchrist, is an ordinary Australian team (bar their talented captain Steve Smith).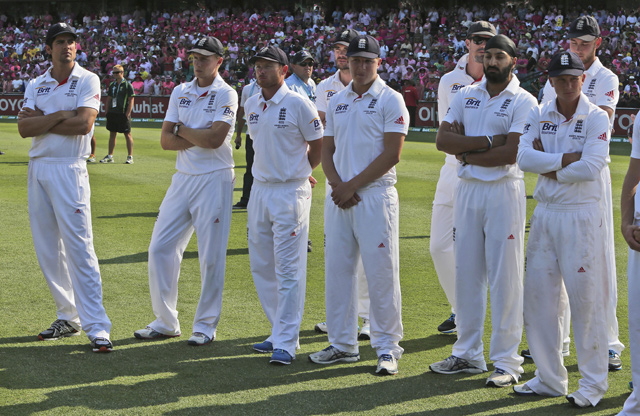 Humiliated: England have been predictably  battered by Australia down under
A bowling attack 5-10 mph slower than that of their opponents was always a concern for England, meaning they would need to rely on big scores from their key batsmen, Cook & Root. Neither have performed, which is shame, as Dawid Malan, the 'rookie' England number 5 batsman, has shown the guts and determination required to win in someone else's backyard.
All in all, with two Tests to play, it has been an unmitigated disaster and that bodes really badly for participation in a sport that at village level is currently dying a slow and painful death that few, if any people, have a cure for.
Cricket participation generally comes in two categories. The first category is an individual often known as the 'cricket tragic'. These types will miss holidays, family barbecues and even weddings, to participate in the game and study it and indeed its equipment, with an almost autistic obsession.
The second category is those who like a game of cricket here and there but can be easily led to other hobbies that will take less energy and of course, a lot less time.
Cricket means giving up a day and an evening on every dry Saturday from May until September which, if you are a child moving into men's cricket, may not carry much appeal.
Given the choice between an X Box and standing on the boundary as the temperature edges up to 10 centigrade on a bleak Saturday in early May, it is often only the tragic who take the opportunity.
In my opinion, the tragic players will always be there, it is the non-tragic who are disappearing from the game as quickly as an endangered turtle tangled up in plastic on an episode of 'Blue Planet'.
It starts with the children. If all they see relating to cricket on the news is hapless defeats to gloating Aussies or some bloke chasing swinging punches outside a nightclub until he lands one on the money, they are not likely to ask their parents to find them a local club.
The ratio of colts cricketers taking up adult cricket was pretty low anyway, now they are not taking up cricket at all, which leaves village cricket clubs driving down a one way road to oblivion once their existing crop finish playing. Our club loses 4 to 5 fixtures each summer due to teams pulling out.
This just leaves the talented apprentice tragics who get taken in by clubs with the best facilities whilst smaller teams are forced to terminate this section of their club. A colts section not only generates players but it also generates much needed cash in the form of subscriptions; you just can't survive without that.
Of course, these issues damage the bigger clubs as well; as they have no one to play against except the other occasional bigger club. It is terrible downward spiral and if you ask a chairman of a club (which I am of course) stand well back and expect to be bludgeoned by reason upon reason behind the demise of cricket at local level.
Lack of TV coverage, obese lazy kids, mobile devices, parents who can't be bothered, too competitive, not competitive enough, too long, not enough opportunity, too expensive, too many other distractions, too much football…I could go on.
These all have legitimacy, however, I believe one major factor is this.
International cricket and biggest occasion of them all, The Ashes series, has become so predictable that you can almost write the script of how they will unfold before the first ball is delivered.
Pitches are prepared so heavily in favour of the home team that it would take one of the most chaotic and disjointed Australian sides to lose to England. The last two out of three series have been a 5-0 whitewash with this one heading the same way (barring complacency or a series of biblical monsoons).
Yet despite this, England have not been beaten at home by the Australians since 2001 and are the only one of the old rivals to win on the others home turf since then (2010). The Ashes series are as predictable as a wet Christmas.
Australia thrash England on hard bouncy pitches and England beat Australia on moist swinging wickets, with the difference being that Australia tends to avoid whitewashes due to Aussie pride and the familiar English sporting inability to stamp all over an opponent when they are down in the dumps.
It is the same if England plays in the sub-continent (where Australia often struggle as well). They get battered by India and Pakistan then beat them comfortably back in the comfort of pitches that take swing but not much spin.
If cricket is not made more interesting, the numbers will continue to fall. Well let's be honest, they are going to fall whatever happens, but a change in how Test matches are set up may at least arrest the decline.
An aggregate situation may be a way forward? Australia lost the last series in England 3-2 and they are two up in this one. So, with Australia 4-3 ahead on aggregate with two tests two go, it is still up for grabs. If it finished level there could be a play-off on neutral territory where no side has the advantage of home soil and weather conditions.
Imagine a scenario where England fluked a win in the next Test and got a draw in the last, resulting in a one off game in Dubai for instance. It would definitely bring a different dimension to The Ashes and get more sports fans interested rather than just the tragic cricket folk saying in forlorn hope, "Anderson knows how to bat" as England are 149 – 9 chasing 600.
Aggregate cricket won't happen of course as the ECB are scared of making changes, so unless a 'Beefy' from 1981 or a 'Freddie' from 2005 emerges very soon, it will only be a few 'tragics' left playing a game that for me (despite being useless) has been the most enjoyable and sociable sport I have been involved with.
I suppose that's me admitting I am a tragic.
---
No Replies to "Ashes Failure is Another Disaster For Participation in Cricket"
---