Southgate Engaging With the Disconnected!
Posted on July 4, 2018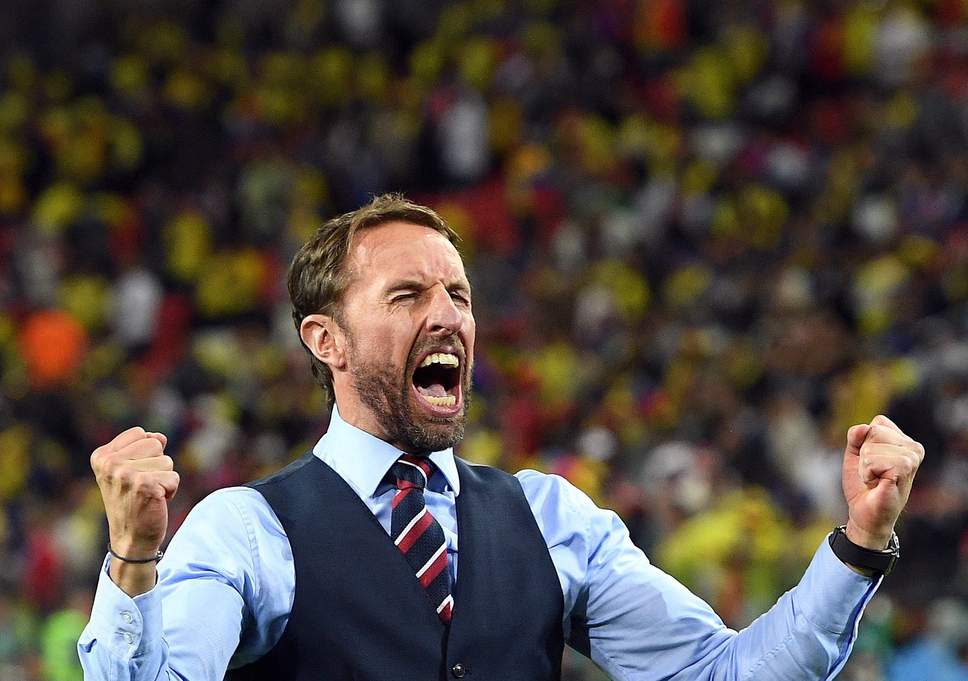 Wasn't it wonderful seeing England win a penalty shoot-out last night? To see these young lads emerge from a crisis and stay focussed after the bitter disappointment of conceding a late equaliser, was alien territory for me and those of my generation.
In years gone by, England teams would have capitulated under the weight of the outrageous cheating by the Colombians. They would have used provocation as an excuse for a disastrous and tearful exit accompanied by an obligatory red card that had come courtesy of petulant retaliation.
However, this is a new England, humble, staying away from tabloid hacks like Matt Lawton, not getting involved in jingoism, and being professional in what they do. They are giving off a vibe that they are privileged to be playing at a World Cup, rather than offering a perception that they were already heroes, doing everyone a favour just by showing up.
Ever since they turned up in Germany in 2006 as self-satisfied and gauche bunch of laughed at wannabes with crass WAGS, the England team has drifted further towards the abyss. Even the most ardent fans were disconnecting themselves with players who were looking for others to blame for their woes, before running home to the tunnel vision adulation of supporters at their domestic clubs.
Sensible supporters can take it if their team is not good enough, but they can't take it when the perception is that international duty is a hindrance to club life and the wealth and adulation that comes with. In England, for too long, football has been linked to trash culture and crap magazines featuring photoshoots of mock Tudor mansions. I spoke to some German and Dutch folk in Munich during the  2006 World Cup and to them, England were like a piss poor cabaret act putting an unnecessary  stain on the tournament.
How low can you actually get before you realise you are a laughing stock of every other nation?
The FA tried to solve this perception of England with a host of new managers including hopelessly out of depth pragmatist, Steve McLaren, then Fabio Capello, the ageing disciplinarian, followed by Roy Hodgson, another pragmatist and decent man lost on the international stage, and finally, Sam Allardyce, the Red Adair of shit football clubs, whose financial indiscretions relieved England fans of another embarrassing and bitter tournament exit amongst a flurry of red cards and bizarre tactics.
By the time of Allardyce's appointment I must admit I had given up and I didn't even bother to get upset after England's cataclysmic defeat by Iceland in Euro 2016. They were that bad I was laughing at them in the last 20 minutes as Harry Kane, the star of this tournament, spent the game taking corners when his job is to score goals. If there was ever an example of square pegs in round holes, it was this utter calamity that in truth, had been waiting to happen for years.
When Allardyce was handed the poison chalice in 2016, I vowed not to watch the qualifying campaign for Russia 2018 and despite his tenure only lasting one miserable game I stuck to my word, with the appointment of Southgate barely registering in my brain.
Then, about six months ago, I stumbled across a Southgate interview on Radio 5. Everything he said was sensible and without all the 'We are the home of football' crap that comes with being an England manager trying to pacify the shitheads in the tabloids. Southgate had recognised that England have no right to such jingoistic claims and was determined to get across a message that England were just another international football team that had to earn the right to beat the so called lesser teams that have overtaken them and were now technically superior.
England? Humble? Wow, I never thought I'd see the day. However, Southgate has transformed the mentality of the players and has won back the more intelligent fans who just want to see England performing to the very best of their ability, whilst showing respect to their hosts and opponents. More importantly, the young players have been drilled in such a way that their focus is to stick to the game plan and keep their cool whilst opponents around them lose theirs.
The behaviour of the Columbia team last night was appalling, with intimidation, violence and underhand tactics testing England to the limits in a chaotic atmosphere where, due to the proportion of Colombians in the stadium, England were effectively, the away team. However, despite a galling late equaliser by the Colombians, England found a way to compose their minds and win on penalties despite, at one point, being on the verge of collapsing mentally; it was a great lesson for young players, who, suddenly, no longer carry the baggage of their predecessors.
I still find it difficult to see England winning the tournament simply because they are probably not good enough but the fact that they are giving it a go, at least gives them a puncher's chance. Whatever happens, they have at least restored respect and hope amongst a population of football lovers who had all but given up on them. They go into the Sweden game not expecting to win but knowing that, if they stay calm and play to the maximum of their ability, they certainly can win.
It's a refreshing mentality in the England camp and one that has been infectious. I really didn't think I would see a day where, once again, I was dancing a jig of delight that, if it wasn't for a collapsing knee, would have been as exuberant as those I experienced in '90 and '96.
Well done Gareth Southgate and well done the new breed of Lions. They haven't changed the world but at least they have given hope to those who were looking for a new England.
Beating those dastardly Colombians was like a defibrillator electrocuting new life into my fading love of the beautiful game.
I loved it.
---
No Replies to "Southgate Engaging With the Disconnected!"
---